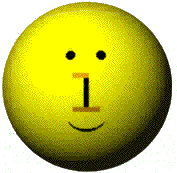 Smiley•Info
Smiley•Info makes quality freeware for the Macintosh platform.
---
| | |
| --- | --- |
| VRAM Calculator | 1.1 |
VRAM Calculator tells you exactly how much VRAM you'll need to run at x by y pixels, z colors (a bits). An example would be 832 by 624, 32,768 colors (16 bits), which requires at least 1014K of VRAM. It also tells you how much VRAM will probably appear in a computer that supports this resolution, say, 1 MB. (Most computers today have around 6 MB of VRAM, so this really isn't necessary... but isn't it great to know it's there? :)

VRAM Calculator has a lot of new fixes. They're discussed in more detail in the included readme file.
Features:
Double-click it, answer 3 questions (horiz. resolution, vert. res., and bits per pixel), and you're done!
The only thing you can't do is order the required amount of VRAM online thru the Calculator ;)