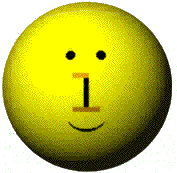 Smiley•Info
Smiley•Info makes quality freeware for the Macintosh platform.
---
mailto Activator tells Netscape 4 to use the program you select (i.e. your favorite mail program) when you click on a mailto: link (a link with an email address, such as smiley-info@geocities.com, our email address for questions/comments). Simply drag your mail app onto mailto Activator or double-click Activator and open the app with the Choose File dialog box, and let the Activator do the rest. You can get out before or after it's done thanks to the included mailto Deactivator - and mailto: links will no longer work, of course, until you re-Activate it.

Deactivator 2.0.1, which is available either included with mailto Activator or as a separate download, adds error-checking and three more ways for Deactivator to do its job. If none of them work, it tells you so.
Features:
Easy drag-and-drop operation, or use a Choose File dialog
Supports Internet Config if you have ICScriptor.
Cancellation at any time



mailto Activator and Deactivator (updated for Deactivator 2.0.1)




mailto Deactivator 2.0.1