We are a LinkExchange participant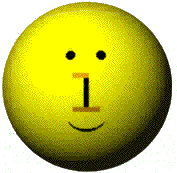 Smiley•Info
Disclaimers
Smiley•Info makes NO claim that any Web page or software product of its creation will work on all computers, operating systems, browsers, etc.
All names used within the site are copyrights and/or trademarks of their respective holders.
All questions to Tech Support which are already answered in the Mac OS Guide, the host program's (e.g. Kaleidoscope, ircle) ReadMe/manual, or the product's (e.g. VisFX, MacFServe) ReadMe/manual WILL be ignored!!
---
Licenses
User license (single user, school, company, etc.)

This license governs use of all Smiley•Info products.
Distribution

Outside distribution of the product by the user shall result in immediate invocation of the distribution license.
Distribution license (company distributing the product for any amount)
This license governs distribution of all Smiley•Info products for any monetary amount in any country's currency.
Notification
Media

The product(s) may be distributed via any medium the distributor wishes; including, but not limited to, CD-ROM, floppy diskette, Zipdisk, etc.
---
1997 Smiley•Info